Task Management Software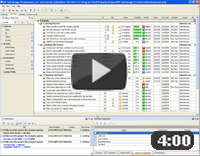 Authorization

TESTIMONIALS
"...This is an excellent program. I'm so glad that I stumbled on to this when researching for task management programs. Very low learning curv, quite flexible, and the price is right. Tried at least 20 other programs, either too complicated, too expensive, or poor documentation..."
Chad Lindsey -
Honolulu, HI
MORE FEEDBACKS

Bridal Shower Checklist

| | |
| --- | --- |
| | Planning an excellent ceremony does not have to be a challenge. You can use the following below Bridal Shower Checklist to make your shower activities effortless. The checklist includes a series of tips on how to plan this great event. |

---

| | |
| --- | --- |
| Order 750 checklists in MS Word and PDF printable format at $49.99 USD only. | BUY NOW! |

Look for Ideas.

Choosing themes, organizing activities, and selecting menu items can be overwhelming if you do not know where to start. If you have ever attended a party, then you have an idea of how to organize such a great event. Otherwise, you need to use your creativity as well as read articles and features stories. There are several sources of valued information about the event, including the following:

Your family and friends. Your relatives and best friends may give you great advice and share their experience with you.
Internet. There are literally thousands of websites dedicated to wedding planning and "how to".
Wedding magazines. Wedding catalogues and journals include hundreds of excellent traditions and celebration ideas about choosing a theme, planning menu items, and organizing fun activities and games.

Select Time & Date.

Once you have read ideas on celebration and chosen the way to organize this even, your next step is to select event time and date. First of all, note that organization of the bridal ceremony takes much time and effort, but typically it takes about 1 week. Also remember that usually a bridal shower is held 4-5 weeks before the wedding date. Taking into account this information, you should assign the date of your event (6-7 weeks before the wedding date). The best time for the event is in the afternoon. It's recommended to use event management software (e.g. VIP Organizer) to create and use an agenda and display checklist items on a timeline.

Select a Place.

Your party does not have to be organized at the City Hall or some other public places. You should choose a place where all your guests will feel comfortable and free. No matter whether the ceremony will be at your home or some another locale, you need to consider the following questions:

How many guests can attend the chosen place?
What are occupancy limitations?
How easy can the place be found by your guests?

If you plan on holding the bridal shower at a reserved locale, you will need to make reservations at least three weeks prior to the party beginning and provide the local staff with necessary requests in advance (for example, you will need to discuss decorations, food, menu items etc.).

Make a Guest List.

Making a list of guests is probably the most challenging area in your agenda. If you want to make a surprise for your bride, then most possibly you may not be able to ask her about people to invite, so you will have to personally decide on the list of invited persons. If you are not going to make a surprise, then you can talk to your bride and make the guest list together. Also, note that your primary limitation is your budget, so be sober-minded when deciding on the number of people to invite. Also remember about etiquette, so invite your relatives first of all.

Send Invitations.

Once the guest list is designed your next activity is to deliver invitations to each of the guests. The best way for delivering invitations is to use mail. Alternatively you can use e-mail. You can also try to deliver invitations personally. In your invitation there should be a quaint card that includes the guest name, place, time & date, and RSVP (so you will know who won't attend the ceremony). Make sure invitations will be sent not later than 2 weeks before the shower.

The Big Day is today!

So the day when the event should be held has come. Today you need to do your best to successfully hold the ceremony and make your bride happy. Here are several rules to follow:

Make sure the place of event celebration is decorated, and music plays.
Make sure food, drinks and ice are in tables.
Setup game prizes in tables.
When your fiancée arrives to the place, you should offer her the "seat of honor".
Make sure the guest book is placed near the entrance.
Introduce each guest to the bride-to-be, as well as introduce her to others.
Organize your photographer to take pictures during the whole event.
Make sure a trash bin is near the table where your bride sits – so she will have no problem with throwing out packing materials of gifts.
Go get some drinks, talk to your guests, and be happy with your bride!

---

| | |
| --- | --- |
| Order 750 checklists in MS Word and PDF printable format at $49.99 USD only. | BUY NOW! |

CentriQS Tasks Management Solution

Looking for multi-user task management software? Try CentriQS complete task management solution for planning, tracking and reporting tasks, projects, and schedules. Increase productivity of your small business or office by better organizing your employees' tasks and time.

FREE Download CentriQS
CentriQS -15% OFF
All-in-one business management software
for small and midsize enterprises

---

VIP Task Manager
Multi-user project management software
to plan, schedule and track project tasks.

---

VIP Checklists
More than 750 ready-to-use to-do lists
to plan your personal and business life

---

VIP Team To Do List
Professional task management software
to make and send team todo lists by email

---

VIP Organizer
Personal time management software
to organize time at home and at work

---

VIP Simple To Do List
Simple and effective to-do list software
to plan daily chores, trips, wedding, etc.