Task Management Software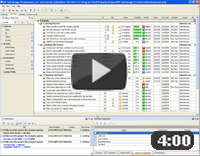 Authorization

TESTIMONIALS
"...This is an excellent program. I'm so glad that I stumbled on to this when researching for task management programs. Very low learning curv, quite flexible, and the price is right. Tried at least 20 other programs, either too complicated, too expensive, or poor documentation..."
Chad Lindsey -
Honolulu, HI
MORE FEEDBACKS

Business Ethics Checklist

| | |
| --- | --- |
| | To put it simply, a business ethics policy is a collection of rules and requirements that say employees what is wrong to do and what is right. This Business Ethics Checklist uses simple descriptions and suggestions to explain how to develop a business ethics policy for a typical organization. |

---

| | |
| --- | --- |
| Order 750 checklists in MS Word and PDF printable format at $49.99 USD only. | BUY NOW! |

1. Key Ethical Principles.

Overview. Your policy should be based on some ethical principles. Here are the most critical principles you need to consider when developing the policy:
Honesty. This principle determines rules for creating, distributing and using any piece of corporate information. It states that employees will never deliberately mislead, say things that are false and be preconceived.
Fairness. The principle says that employees will create, follow and achieve a business process on an even-handed basis.
Promise-keeping. Every person acting on behalf of your company will not make promises that cannot be kept. Also the company is obligated to keep its commitments.
Respect for others. The company and its workers will be open and direct in communications with inside and outside communities. Every person acting on behalf of the company will honor and value abilities and contributions of others and express his/her respect to others.
Integrity. All the principles outlined in your ethics policy will be treated and followed by all the people working for the company. This principles states integrity of the rest ethical principles.

2. Standards of Business Practice.

Overview. Your firm should be committed to high ethical standards in the business practice to ensure that the integrity of employees, customers, suppliers and partners is maintained. Here are several standards that you can include in your ethics policy.
Corruption and Bribery. You should create a fair and ethical business environment in your company to resist to corruption or bribery in whatever form it may take.
Customer Treatment. You need to establish rules that support mutual trust and confidence between your business and customers. All your workers should strive to consistently deliver service excellence and meet customer expectations.
Supplier Relationships. This standard of ethical business practices requires you to establish relationships with your external suppliers that provide your offices with necessary products and services.
Competition. Just like any other businesses, your company has to compete in your market. This standard requires you to compete vigorously but in an ethical and fair way.

3. Approach to Corporate Governance.

Overview. Your business firm needs to develop and follow an approach that could help protect interests of your shareholders and run business operations in conformance with relevant legal and regulatory environments. Here are several basic components that you can use to develop your corporate governance approach.
Compliance with the Law. Your company is obligated to comply completely with all relevant local, national and international laws. It will act in compliance with legal guidelines, including industry-specific rules and regulations.
Accounting Standards. The company will keep relevant and true records of business transitions, operations, assets and liabilities in compliance with appropriate accounting and regulatory requirements.
External Reporting. The company will generate and provide reports to regulatory bodies, government agencies or other appropriate institutions to ensure that all business information is correct, timely and not misleading.

4. Commitments to Employees.

Overview. Your firm needs to optimize both individual and business performance through committing to creating an environment in which your people want and are able to contribute to business success. Here're several commitments.
Legal Concern. Your business should deal with its employees in compliance with national legal regulations and requirements and act under labor or social security laws.
Harassment. Any unwanted behavior which is regarded as intimidating, upsetting, embarrassing, humiliating or offensive refers to harassment. In your company racial, sexual or any other kind of harassment should be unacceptable.
Employment Terms. Your business needs to work on creating permanent long-term relationships with potential employees. Every worker of your company will be paid for work under labor and employment terms established by national legislation, appropriate agreements or/and industry standards.
Career Opportunities. In order to retain your employees you need to provide career opportunities. Every employee should have an opportunity to develop his/her potential and build a career path further in your company.
Health & Safety. You can't operate your business without providing health and safety guarantees to your workers. You'll need to make regular and systematic reviews of the efficiency of your methods of operation in order to create low-risk working environments.

5. Employees' Commitments to Organization.

Overview. Your employees should meet some commitments in order to avoid situations when occurrence of business impropriety and any other circumstances ...




---

| | |
| --- | --- |
| Order 750 checklists in MS Word and PDF printable format at $49.99 USD only. | BUY NOW! |

CentriQS Tasks Management Solution

Looking for multi-user task management software? Try CentriQS complete task management solution for planning, tracking and reporting tasks, projects, and schedules. Increase productivity of your small business or office by better organizing your employees' tasks and time.

FREE Download CentriQS
CentriQS -15% OFF
All-in-one business management software
for small and midsize enterprises

---

VIP Task Manager
Multi-user project management software
to plan, schedule and track project tasks.

---

VIP Checklists
More than 750 ready-to-use to-do lists
to plan your personal and business life

---

VIP Team To Do List
Professional task management software
to make and send team todo lists by email

---

VIP Organizer
Personal time management software
to organize time at home and at work

---

VIP Simple To Do List
Simple and effective to-do list software
to plan daily chores, trips, wedding, etc.