Task Management Software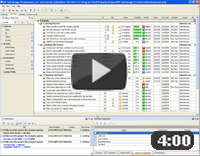 Authorization

TESTIMONIALS
"...This is an excellent program. I'm so glad that I stumbled on to this when researching for task management programs. Very low learning curv, quite flexible, and the price is right. Tried at least 20 other programs, either too complicated, too expensive, or poor documentation..."
Chad Lindsey -
Honolulu, HI
MORE FEEDBACKS

Camping Checklist - To Do List for Camping

| | |
| --- | --- |
| | Camping template is a list of camping supplies and equipment for you to start on a camping trip to the park, beach, etc. Use this Camping Checklist to discover advantages of camping world. |

---

| | |
| --- | --- |
| Order 750 checklists in MS Word and PDF printable format at $49.99 USD only. | BUY NOW! |

Basics:

Backpack
Batteries
Compass
Flashlight
Hiking/camp guides
Identification
Lantern
Lounge chair
Maps
Money
Pocket knife
Radio
Rope
Tarp
Torches
Whistle

Tools:

Axe
Camp Knife
Firestick
Flashlight
Hatchet
Mallet
Matches
Stake Puller
Lighter
Ziploc Bags

Shelter/Bedding/Sleeping:

Ant Spray
Blankets
Books
Canopy
Chairs
Citronella Candles
Clothesline
Clothespins
Comforter
Cot
Ground Cloth
Headrest
Lantern (Propane)
Mallet/hammer
Mantles
Matches
Mattress
Pillows
Poles/Stakes
Porta-Potty
Potty Chemicals
Propane
Rain fly
Reading Lantern
Rope
Shower
Shower Stall
Sleeping Bags
Sleeping Pads
Starter Logs
Tarp
Tent
Tent flashlight
Towel doormat
Throw rug
Trashbags
Umbrella
Whisk Broom

Personal/Grooming/Cleaning:

Allergy pills
Broom
Comb
Contact lens supplies
Deodorant
Detergent
Dish rack
Dust pan
Feminine supplies
Glasses
Hair dryer
Hand Sanitizer (waterless)
Make-up bag
Nail clippers
Pot scrubber
Razor
Sewing kit
Shampoo
Shaving cream
Soap
Sunglasses
Toilet Paper
Toothbrush
Toothpaste
Towels
Washcloths
Wet Wipes

Clothing:

Bandanna
Hat
Jacket
Jeans
Laundry bag
Pants
Shirt
Shoes (hiking boots, sneakers, sandals)
Socks
Shorts
Sunglasses
Sweater
Swim suit
T-shirts
Warm gloves
Underwear

Cooking/Dishes/Kitchen:

Aluminum foil
Bottle opener/cork screw
Bowls
Can opener
Charcoal or wood
Coffee maker
Coffee pot
Cups
Cutting Board
Dish Pan
Firestarter sticks
Firewood
Forks
Frying Pan
Grill
Ice chest
Knives
Measuring cup
Mugs
Newspapers for lighting a campfire
Pans
Paper plates, cups, bowls, etc.
Paper towels & napkins
Plasticware
Plates
Pot or sauce pan
Pot holders
Scrub Pad
Spatula
Spoons
Strainer
Stove with fuel & lighter
Tablecloth
Thermos
Tongs
Trash bags
Ziplock Bags

Food/Drink:

Bacon
Beans
Beer
Bouillon cubes
Bread
Butter
Cereal
Cheese
Coffee
Cooking Oil
Eggs
Fruit
Garlic
Ham
Juice
Lemons
Milk
Mushrooms
Mustard
Noodles
Oatmeal
Onions
Pancake Mix
Pepper
Potatoes
Rice packages
Salt
Soft Drinks
Spaghetti
Spaghetti Sauce
Spices
Sugar
Syrup
Tea
Tomatoes
Vienna Sausages
Water
Wine

First Aid/ Medical:

Antibiotic wipes
Antiseptic cream
Aspirin
Bandages
Box of latex gloves ...

---

| | |
| --- | --- |
| Order 750 checklists in MS Word and PDF printable format at $49.99 USD only. | BUY NOW! |

CentriQS Tasks Management Solution

Looking for multi-user task management software? Try CentriQS complete task management solution for planning, tracking and reporting tasks, projects, and schedules. Increase productivity of your small business or office by better organizing your employees' tasks and time.

FREE Download CentriQS
CentriQS -15% OFF
All-in-one business management software
for small and midsize enterprises

---

VIP Task Manager
Multi-user project management software
to plan, schedule and track project tasks.

---

VIP Checklists
More than 750 ready-to-use to-do lists
to plan your personal and business life

---

VIP Team To Do List
Professional task management software
to make and send team todo lists by email

---

VIP Organizer
Personal time management software
to organize time at home and at work

---

VIP Simple To Do List
Simple and effective to-do list software
to plan daily chores, trips, wedding, etc.