Task Management Software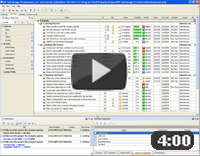 Authorization

TESTIMONIALS
"...This is an excellent program. I'm so glad that I stumbled on to this when researching for task management programs. Very low learning curv, quite flexible, and the price is right. Tried at least 20 other programs, either too complicated, too expensive, or poor documentation..."
Chad Lindsey -
Honolulu, HI
MORE FEEDBACKS

Document Proofing Checklist

| | |
| --- | --- |
| | Such procedure as document proofing requires extensive testing of modifications made to a document as well as creation of document versions. Read the following Document Proofing Checklist to learn basic tasks for doing the procedure. |

---

| | |
| --- | --- |
| Order 750 checklists in MS Word and PDF printable format at $49.99 USD only. | BUY NOW! |

Overview.

What. Document proofing means a process for examining and auditing the content of a document slowly and carefully while catching errors and looking for misunderstandings. It means focusing on the sense of the document to ensure correctness, logic and appropriateness of the content.
Why. The main reason for doing the document proofing process is to catch and correct every single error and to avoid misunderstands within the content of a document. The process helps increase awareness of types of errors that are regularly and avoid these errors in the future.
When. A document should be examined and proofread prior to its final stage when the document is created and ready for submission. It means you need to check a draft of your document for errors and misunderstandings before creating the final version. Usually it takes several days to proofread, audit and test documents.
How. In this template you can read tips and suggestions on how to examine typical documents and how to catch and correct errors and misunderstandings in document content.

Proofreading.

Create a draft of your document in an electronic format by using a word processor (for example, MS Word, Oracle Open Office).
Use spell and grammar checker of your word processor software to catch errors and mistyping.
Have a person to help you check and proofread your document.
Double check short words (such as "or," "of," "it" and "is") used in the document content.
Double check names and titles for properness.
Closely review footer/header material (e.g. document headers, page numbers) for accuracy and correct order.
Carefully read text in a very tiny font.
Double check unusual text fonts (e.g. italic, bold, underlined).

Usability Testing.

Overview. Testing a document's usability means identifying how readers attempt to use the document and follow instructions listed in the document content. This method is best to use in examining instructional documents (e.g.: manuals, user guides, product usage prescriptions). Complete the listed below tasks to use the method.
Choose 5-7 candidates to your testing team (document testers).
Give every tester a copy of your document.
Ask your testers to carefully reader the document several times.
Engage the testers in following guidelines and instructions listed in the document.
Watch how they attempt to do the guidelines and instructions. Can you say they do everything right?
Create a series of questions that your testers should answer by using the document.
Read the team's answers.
Calculate the number of mistakes and errors (if any) your testers made (their answers entailed some actions to follow the instructions listed in the document, so you need to figure out whether those actions were correct or incorrect).
Summarize the work done and decide whether current version of your document is usable (depending on the number of mistakes made by the testing team).

Readability Testing.

Overview. Readability testing is one of the easiest and inexpensive document proofing methods to examine a document's readability by receiving readers feedback about the document or its portions. Below you can see tasks to apply the method to your documents.
Choose 6-9 candidates to your target audience (readers).
Ask these people to read the document several times.
Organize one-on-one interviews with the readers and find out if they really understand what the document is supposed to tell them.
During interviews ask every reader to read the document by paragraphs (no more than 12 sentences each paragraph).
Listen to how the reader explains the text. Does the reader correctly understand what every portion of the document tells about?
Find out if there're some confusing words, missing information, or ambiguous instructions in the text.
Make records on irrelevant pieces of the text.
When the document is fully read, ask broader questions (for example, "How would you describe the main point of the document?", "Can you retell the text in a few sentences?").
Finish your interviews by showing gratitude to your readers.
Summarize answers of the readers and decide on current readability level of your document.

Focus Groups.

Overview. Focus Groups refer to a document proofing method that entails gathering information on how readers feel about a document in order to determine influence of the document to potential readers. Do the following tasks to apply this method.
Choose 8-12 candidates to a focus group.
Assign a moderator who works with the group. A person assigned to the moderator role should be neutral and not involved in creation and use of the document.
Ask your moderator to prepare a number of common questions about the document. These questions shouldn't lead to or be biased toward a particular response.
Organize a meeting with the group and show the questions.
Engage the moderator in leading the meeting and organizing a live discussion.
Gather the group's answers when the discussion is finished (every question...




---

| | |
| --- | --- |
| Order 750 checklists in MS Word and PDF printable format at $49.99 USD only. | BUY NOW! |

CentriQS Tasks Management Solution

Looking for multi-user task management software? Try CentriQS complete task management solution for planning, tracking and reporting tasks, projects, and schedules. Increase productivity of your small business or office by better organizing your employees' tasks and time.

FREE Download CentriQS
CentriQS -15% OFF
All-in-one business management software
for small and midsize enterprises

---

VIP Task Manager
Multi-user project management software
to plan, schedule and track project tasks.

---

VIP Checklists
More than 750 ready-to-use to-do lists
to plan your personal and business life

---

VIP Team To Do List
Professional task management software
to make and send team todo lists by email

---

VIP Organizer
Personal time management software
to organize time at home and at work

---

VIP Simple To Do List
Simple and effective to-do list software
to plan daily chores, trips, wedding, etc.