Task Management Software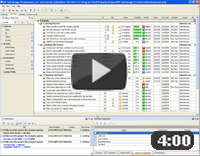 Authorization

TESTIMONIALS
"...This is an excellent program. I'm so glad that I stumbled on to this when researching for task management programs. Very low learning curv, quite flexible, and the price is right. Tried at least 20 other programs, either too complicated, too expensive, or poor documentation..."
Chad Lindsey -
Honolulu, HI
MORE FEEDBACKS

Document Revision Checklist

| | |
| --- | --- |
| | Revising a document is often a more time-consuming task than writing this document. The author (student, analyst, project manager, copywriter, etc.) who needs to be sure his/her work is correct and accurate can use this Document Revision Checklist that describes a 3-step approach of the document revision process. |

---

| | |
| --- | --- |
| Order 750 checklists in MS Word and PDF printable format at $49.99 USD only. | BUY NOW! |

Overview.

Definition. Document revision is a process of reviewing a document and its content for logical mismatches, work spelling errors, and information accuracy to detect and remove all mistakes and ensure that the document is correct and addresses the major idea.
Approach. The revision process is carried out under a certain approach. We suggest you to use a 3-step approach to turn your paper into a correct and comprehensive document. Below in this checklist we describe the suggested approach which includes these steps:

1-st Revision: reviewing the document for logical mismatches and structural mistakes.
2-nd Revision: examining word spelling and checking the information for relevance and accuracy.
3-rd Revision: approving the paper.

1-st Revision.

Review your document relatively quickly to look for logical mismatches, parts of the text to be clarified, places to be specified and deepened, and broad structural changes to be checked.
Do not focus on spelling, punctuation, and similar errors during the 1-st revision.
Instead, focus on the overall content of your document to understand the key point that the document addresses.
Determine if the information really suits the purpose and scope of your paper.
Mark places that are not relevant to the document topic or are not logically clarified and accurate.
Revise the document or its separate parts if you determine that there are logical mismatches and uncertainties that may confuse the reader.
Have the 1-st revised version of your paper ready for the 2-nd revision.

2-nd Revision.

Use 4C rule to check the document content. 4C means Clear, Complete, Correct and Credible.
Scan your document for typos and misspellings.
Remove or remake clumsy sentences and confusing or misleading phrasing.
Cut unnecessary words from the document (e.g. "just", "really", "quite", "perhaps", "that", etc.)
Check the document content for commonly misused or confused words and expressions.
Rewrite sentences or entire paragraphs if needed to make them more cohesive.
Be sure the document is properly cited and referenced.
Be sure the document contains current, accurate and relevant information (numbers, dates, calculations, formulas and the like).
Review images and graphs (if any) for correctness and appropriateness.
Add visual aids (like arrows, notes) to the document to make it more interesting and understandable.
Have the 2-nd revised version of the document ready for the 3-rd, final revision.

3-rd Revision.

Read the document aloud for yourself or somebody else who is concerned with the content.
Look for any spelling, punctuation, or other errors that might have been overlooked in the previous revision steps.
Rework the document if you detect any logical or spelling mistakes.
Ask your listener about the document. Can the listener retell the major idea? Are there any confusing and inaccurate places in the document?
Prepare a revised copy of the document for approval.
Approve the document and submit it to the reader.

General Tips.

Use a word processing program (e.g. MS Word) to create and edit your document.
Be sure this program has a built-in spell checking module.
Also consider using a spelling dictionary and grammar to check special and rarely-used words and expressions.
Do not spend your time and effort on revising parts of sentences if the whole paragraph is to be deleted or completely reworked.
Have a printed copy of your document for spell...




---

| | |
| --- | --- |
| Order 750 checklists in MS Word and PDF printable format at $49.99 USD only. | BUY NOW! |

CentriQS Tasks Management Solution

Looking for multi-user task management software? Try CentriQS complete task management solution for planning, tracking and reporting tasks, projects, and schedules. Increase productivity of your small business or office by better organizing your employees' tasks and time.

FREE Download CentriQS
CentriQS -15% OFF
All-in-one business management software
for small and midsize enterprises

---

VIP Task Manager
Multi-user project management software
to plan, schedule and track project tasks.

---

VIP Checklists
More than 750 ready-to-use to-do lists
to plan your personal and business life

---

VIP Team To Do List
Professional task management software
to make and send team todo lists by email

---

VIP Organizer
Personal time management software
to organize time at home and at work

---

VIP Simple To Do List
Simple and effective to-do list software
to plan daily chores, trips, wedding, etc.