Task Management Software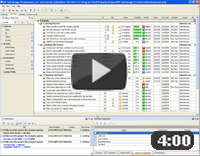 Authorization

TESTIMONIALS
"...This is an excellent program. I'm so glad that I stumbled on to this when researching for task management programs. Very low learning curv, quite flexible, and the price is right. Tried at least 20 other programs, either too complicated, too expensive, or poor documentation..."
Chad Lindsey -
Honolulu, HI
MORE FEEDBACKS

Employee Evaluation checklist

| | |
| --- | --- |
| | This Employee Evaluation checklist will be helpful to HR and company managers who would like to perform an evaluation for a variety of purposes. This checklist can serve as a model for the creation of your own plan that is more appropriate for your business needs, as it gives a set of universal guidelines and suggestions. |

---

| | |
| --- | --- |
| Order 750 checklists in MS Word and PDF printable format at $49.99 USD only. | BUY NOW! |

Employee Evaluation Guidelines:

Basically you need to set up clear goals for your Survey: for example you may want to evaluate how well employees perform after you bring some changes into working environment (to know if these changes stimulate employees to show a better productivity, enthusiasm, initiative, etc). Generally the statements can be the following:

Identifying your best and worst workers;
Finding out problems in your workforce's performance and finding drivers to boost it up;
Laying the foundation for better communications between staff, managers, executives, etc;
Updating and clarifying the real picture of workforce available in your organization;
Updating corporate performance standards and checking their actual applicability;
Investigating and clarifying background for promotions and workforce management strategy;

When performing review, your organization needs to adhere to process and procedures that allow minimizing any subjective judgements. The objective approach can be reached through establishing special evaluative criteria and metrics (of course these measures should be realistic, fair and accepted by employees) that would give a rationale to clarify if the employee meets them as appropriate;
Make sure that the job description has been introduced to the employee and he/she knows what expectations he/she should match and what standards he/she is being evaluated against. This description may include the following:

A set of clearly established job accountabilities;
Standards of performance (reasoned by realistic & fair analysis, regulated by documents);
Clearly defined and prioritized employee's duties, tasks, functions;
Clearly defined business process that minimizes obstacles on the path towards efficacy;
List of tools and equipment necessary to effectuate his duties;

Make sure that employee was introduced to your corporate Standards that may include the following items:

Appearance and corporate dress code;
Attendance and punctuality;
Work quality and quantity (productivity);
Balance between the quality and amount of output;
Managerial and leadership skills;
Operational skills and work knowledge;
Attitude and work culture;
Enthusiasm and initiative;
Cooperation and social skills;
Expertise and certifications;
Creativity and problem solving;
Independence and effort;

Select appropriate techniques (some of them are explained below):

The 360 Feedback Method – method of collecting and consolidating feedbacks from the whole diversity of persons whom the employee interacts with internally (colleagues, supervisors, etc) and externally of the organization (customers, partners, etc);
Employee evaluation ratings – team members evaluate each other (appoint ratings) through completing forms that embrace a list of essential areas (standards) to characterize each of their co-workers by (final results are averaged, derived and evaluated by independent analyzers and verified by the key team members);
SMART Evaluation Ranking – this method is based on the development of SMART goals (specific, measurable, attainable, realistic and timed) between subordinates and supervisors, so that performance is appraised on how the employee handles these goals during a specific period.

In order to get balanced, correct and comprehensive evaluation results you need to get insight of the real situation to align your methods and conclusions with it; this can be characterized by the following issues to take into consideration:

There are some obstacles (outside the employee's control) that interfere with job performance;
Employee hadn't been provided with all materials and means to do his work right;
Employee faced some administrative or political problems which hampered job performance;
Employee faced some health or moral problems;
Employee faced some new conditions that he needed some time to get adapted to;

Conduct Employee Evaluation for strengths and weaknesses according to pre-composed plan (focused on your goals and using suitable methods) to cope with some of the following:

Recognize and analyze employee contributions and achievements;
Analyze employee's potential for development and promotion;
Recognize his professional and personal traits helping him to perform excellently;
Disclose his professional and personal traits preventing him from being effective;
Find out performance gaps and qualify them in measurable and understandable terms;
Investigate some objective and subjective reasons justifying these gaps;
Derive supervisor's and employee's explanation of detected issues;

Summarize the effort by composing a report containing...




---

| | |
| --- | --- |
| Order 750 checklists in MS Word and PDF printable format at $49.99 USD only. | BUY NOW! |

.

CentriQS Tasks Management Solution

Looking for multi-user task management software? Try CentriQS complete task management solution for planning, tracking and reporting tasks, projects, and schedules. Increase productivity of your small business or office by better organizing your employees' tasks and time.

FREE Download CentriQS
CentriQS -15% OFF
All-in-one business management software
for small and midsize enterprises

---

VIP Task Manager
Multi-user project management software
to plan, schedule and track project tasks.

---

VIP Checklists
More than 750 ready-to-use to-do lists
to plan your personal and business life

---

VIP Team To Do List
Professional task management software
to make and send team todo lists by email

---

VIP Organizer
Personal time management software
to organize time at home and at work

---

VIP Simple To Do List
Simple and effective to-do list software
to plan daily chores, trips, wedding, etc.