Task Management Software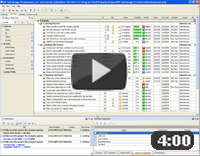 Authorization

TESTIMONIALS
"...This is an excellent program. I'm so glad that I stumbled on to this when researching for task management programs. Very low learning curv, quite flexible, and the price is right. Tried at least 20 other programs, either too complicated, too expensive, or poor documentation..."
Chad Lindsey -
Honolulu, HI
MORE FEEDBACKS

Employee Resignation checklist

| | |
| --- | --- |
| | This Employee Resignation checklist is a guide on how this process is basically organized, including some reasons why people may decide to leave their employers, and how this can be prevented to minimize staff turnover. Check this Employee Resignation checklist if you would like to learn the basics to better your insight of this important part of your organization's HR workflow. |

---

| | |
| --- | --- |
| Order 750 checklists in MS Word and PDF printable format at $49.99 USD only. | BUY NOW! |

Employee Resignation Reasons:

Job doesn't meet the expectations. This issue appears when employee understands that he/she regularly has to do something that doesn't fully meet the profile of his/her job – such a problem can be prevented by giving a realistic job preview to candidates;
Job doesn't satisfy talents and interests of employee. This can be caused by hasty hiring, and can be prevented by a more careful personnel selection and more sophisticated HR policy to match every employee's talents to company's needs;
No hope for career growth. If employee knows that he/she deserves a better career, while his/her potential for development and promotion is hampered/blocked within your organization, then employee will leave you as soon as he/she find a good opportunity;
Lack of feedback or coaching. Employee doesn't feel fully committed to the job because his/her opinions, needs or suggestions are not properly considered, addressed and answered;
Feeling devalued and unrecognized. This is caused by insufficient remuneration, lack of moral encouragement, frequent cavils and unfair judgments from supervisors;
Feeling too overworked and stressed out. When some employers forget that their employees are not robots, they may begin violating life/work balance of their employees with regular excessive assignments & usual need to work overtime, which along with poor recognition will surely cause unwillingness to work anymore for such an employer;
Lack of trust or competence in leaders. When a leader is not competent or trustworthy enough, his/her mismanagement can cause severe interpersonal or professional conflicts in the team and create unsatisfactory working environment forcing workers to leave;
Employee's life circumstances have changed. This includes some conditions that are beyond of employers control, for example employee has decided to migrate to another city or country;

Employee Resignation Process:

Every company has its own procedures providing special guidelines for employees and supervisors to follow when providing their resignation notice as well as detailed exit procedures (please see Employee Exit checklist). Normally, these guidelines are created on a base of local laws and each company's specifics;
As a formal written notice of resignation, employees should complete an Form (electronically or traditionally), and submit the completed form to their supervisor for his/her information and signature;
Supervisors must check the Employment Agreement to confirm notice period clauses, sign the resignation form (letter) as soon as possible, respond to the resignation request, and immediately forward it to the Human Resource Department;
Sometimes a situation called "Employee Resignation without notice" may happen, which generally denotes termination of the employment relationship by the employee without observing the required period of notice (for example incapacity to continue the employment on health grounds), and each country or company has its own regulations on how to handle it;
According to the company's policy the exit meetings and surveys can be scheduled and assigned, so that basically the following goals are achieved:

All financial issues are closed and final pay is calculated;
Exit interview is conducted to clarify reasons to leave and other essentials topics;
All company's property that has been previously borrowed to employee was collected;
Rights assumed by the employer should be observed as appropriate;

Make sure that Resignation Announcement is properly created and distributed inside of the organization beforehand, and also delivered to some external people if applicable, as such an announcement pursues the following goals:

Informing all concerned co-workers and supervisors of the upcoming employee's resignation, so that they can finalize and close out some pending issues and collaborative tasks;
Informing former employee's business network (partners, customers and suppliers who had been collaborating with the employee regularly) to make sure that they know whom they are transferred to in order of keeping business relations instead of the leaving person;
Arrange meeting to acknowledge the employee's resignation, reward his/her contribution into company's success & compliment working achievements, provide gratuity, etc;

Such an Resignation Notification ...




---

| | |
| --- | --- |
| Order 750 checklists in MS Word and PDF printable format at $49.99 USD only. | BUY NOW! |

CentriQS Tasks Management Solution

Looking for multi-user task management software? Try CentriQS complete task management solution for planning, tracking and reporting tasks, projects, and schedules. Increase productivity of your small business or office by better organizing your employees' tasks and time.

FREE Download CentriQS
CentriQS -15% OFF
All-in-one business management software
for small and midsize enterprises

---

VIP Task Manager
Multi-user project management software
to plan, schedule and track project tasks.

---

VIP Checklists
More than 750 ready-to-use to-do lists
to plan your personal and business life

---

VIP Team To Do List
Professional task management software
to make and send team todo lists by email

---

VIP Organizer
Personal time management software
to organize time at home and at work

---

VIP Simple To Do List
Simple and effective to-do list software
to plan daily chores, trips, wedding, etc.