Task Management Software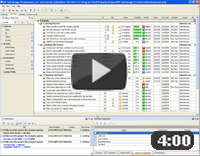 Authorization

TESTIMONIALS
"...This is an excellent program. I'm so glad that I stumbled on to this when researching for task management programs. Very low learning curv, quite flexible, and the price is right. Tried at least 20 other programs, either too complicated, too expensive, or poor documentation..."
Chad Lindsey -
Honolulu, HI
MORE FEEDBACKS

Grandparents Day checklist

| | |
| --- | --- |
| | Grandparents Day date is appointed on the first Sunday after Labor Day every year (in US it is celebrated in September). Celebration was officially proclaimed in 1978, but originally it was founded by Marian McQuade who hoped to promote ideas – to encourage grandchildren to inherit the wisdom and heritage from their grandparents. In order to help you in celebrating this nice day we offer this checklist which includes tips and ideas on holiday activities, congratulations and gifts. |

---

| | |
| --- | --- |
| Order 750 checklists in MS Word and PDF printable format at $49.99 USD only. | BUY NOW! |

Miscellaneous activities for everyone:

If you don't have your own grandparents you may volunteer for projects taking place in your community. Usually such projects are established to support lonely old people living in retirement homes, or to do other activities focused on providing help to elder people.
Help your grandparents at their home in preparing holiday meal.
If your grandparents will arrive to your home, then surprise them by making decorations, or help them to decorate their homes in advance.
If weather is fine arrange outdoor picnic for the whole family, or arrange camping in a forest or a barbeque on a lakeshore.
Help your grandmother in gardening. Forget-me-not flowers are official symbol of this holiday so you may present some to your grandparents.
Go fishing or boating with your grandfather.
Let grandparents and their grandchildren play some sports – tennis, badminton, football or anything like this.
Speak with your kids to tell them what are (or were) their grandparents.
Discuss together with your kids how they want to congratulate and honour their grandparents.
Create worksheets to plan and track holiday preparations involving special interesting tasks for grandchildren.
While having a meal with grandparents you may save your memories by making photos all evening long.
Record a video where grandparents tell something interesting or outstanding that had happened to them a long time ago – this will help you to save memories for descendants.
Take your kids to some events like concerts, theatrical performances etc.
Usually, in schools and kindergartens during pre-holiday time some lessons are dedicated to themes like "Why My Grandma and Grandpa are special?" Ask if your children or grandchildren had such ones, what they answered etc.

Original games for grandkids and their grandparents:

Play a game with balloons. Players should bat a balloon back and forth, using their hands, heads and legs; the point is not let your balloon to hit the ground. You may play using several balloons to get more fun.
Arrange in-door "safari". Hide stuffed animals in different places of your house, so when the grandchildren arrive they can go around looking for hidden animals. Each found and "caught" animal is a present itself and additionally can be rewarded with some sweets.
Take an album of old family photos. Demonstrate to the grandchildren some child photos of their parents and your photos when you were young. Tell some interesting or funny stories from your childhood.
Play a shadow show. Prepare foggy glass screen, a source of strong light, dark curtains, black paper, a pair of scissors etc. Teach your grandchildren how it works, help them to create paper puppets, imagine a story and play it as a shadow theatre.
Arrange contest of songs in karaoke.
Show your grandchildren some interesting books with entertaining pictures. Read the story having your grandkids as the main characters of the tale. Discuss how they would act in each situation.
Youngsters may draw up a traditional family tree which shows the place of their parents and grandparents.
Have some fun with a tea party (real or imaginary). Small granddaughters may love idea to arrange tea party where their dolls and other toys are guests. During such a party you can teach grandchildren the basics of etiquette.
Experiment with blending fruits, ice cream etc. Use blender device, different kinds of fruits, syrups and ice cream to create crazy cocktails. Offer grandkids to invent craziest combination of components they would like to try.

Grandparents Day gifts:

It is important to congratulate your grandparents with all your heart, so don't spare your time to prepare really cool gift expressing all your love and warmest congratulations.
Gladden your Grandmas and Grandpas with some self-baked chocolate sweets or cookies. You may prepare strawberries coated with chocolate or you may order a fancy cake decorated with grandparents' portrait.
You may order individually decorated cups for Grandma and Grandpa with their portraits printed on. Also you may present them the whole set of decorative plates and dishes with portraits of their children and grandchildren.
Young grandchildren may prepare some arts and crafts, for example hand-made greeting cards and pictures, paper flowers, fluffy toys, collages with stones, leafs, shells etc.
There is nothing better for a holiday, then to be complimented with warmest words, especially if they are rhymed. Young grandchildren may compose short poems to recite them or to write them in greeting cards.
Brighten up your Grandparents Day with a basket of juicy and health-giving fruits. Fill the basket with fresh and clean apples, pears, plums, peaches and other fruits.
Make your grandparents happy with a beautiful floral bouquet.
Buy some funny cards with pleasing and encouraging wishes. There are a lot of different cards in shops, but you may create something exclusive, for example you can find some printables on the Web (some funny pictures and patterns for colouring) and create own composition. Young grandchildren may crayon greeting cards or colour a pattern.




---

| | |
| --- | --- |
| Order 750 checklists in MS Word and PDF printable format at $49.99 USD only. | BUY NOW! |

CentriQS Tasks Management Solution

Looking for multi-user task management software? Try CentriQS complete task management solution for planning, tracking and reporting tasks, projects, and schedules. Increase productivity of your small business or office by better organizing your employees' tasks and time.

FREE Download CentriQS
CentriQS -15% OFF
All-in-one business management software
for small and midsize enterprises

---

VIP Task Manager
Multi-user project management software
to plan, schedule and track project tasks.

---

VIP Checklists
More than 750 ready-to-use to-do lists
to plan your personal and business life

---

VIP Team To Do List
Professional task management software
to make and send team todo lists by email

---

VIP Organizer
Personal time management software
to organize time at home and at work

---

VIP Simple To Do List
Simple and effective to-do list software
to plan daily chores, trips, wedding, etc.