Task Management Software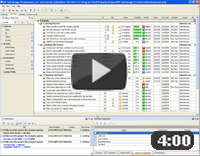 Authorization

TESTIMONIALS
"...This is an excellent program. I'm so glad that I stumbled on to this when researching for task management programs. Very low learning curv, quite flexible, and the price is right. Tried at least 20 other programs, either too complicated, too expensive, or poor documentation..."
Chad Lindsey -
Honolulu, HI
MORE FEEDBACKS

Halloween Party checklist - To Do List for Halloween Party

Halloween Party template is a 'to do list' for you to celebrate this day with horror and fun. Use this Halloween party template as a checklist and your kids will remember this party for all their lives.

---

| | |
| --- | --- |
| Order 750 checklists in MS Word and PDF printable format at $49.99 USD only. | BUY NOW! |

Invitations

Decorations

Black balloons and black crepe paper.
Any Halloween decorations you may have.
"Specimen Jars" can be anything that has the potential of looking yucky. Soak off labels and make new ones with what they would be in your "lab."

Vienna sausages (baby food jar): Fingers
Shredded red cabbage or sour kraut: Brains
Hard boil eggs, crack shells and soak in tea, peel: Eyes.
Tip: Look down the food isles at the grocery store.

Hangman's noose hanging. Add a cows tongue to the table. Dried ice around punch bowl for effect.

Make an operating table
Need:
1 plastic skeleton, apart at the waist
1 plastic table cloth
Boiled and oiled spaghetti
Lay skeleton on table and cover with cloth, except head. Slit area over stomach. Place pan of spaghetti for guts. In heart area you can place something that moves. I used a jumping spider (the kind on a air tube), turned upside down. The flipper on the bottom would jump when we squeezed the puffer.

Outside Decorations

Create tombstones
These can be made from old plywood and spray painted black and silver. Paint in the words.
Here lies:
Ted N. Buried
U. R. Next
Fester N Rot
Here Lies Good old Fred...A Great Big Rock Fell on His Head

Food and Snacks

This is really gross but fun.
Need:
1 Cat litter pan
1 Cat litter scoop
1 large box Grape Nuts
1 large sack Tootsie Rolls (unwrapped)
Box powdered sugar
Mix the Grapenuts with the powdered sugar. Pour into litter box and add Tootsie rolls, stir in. Set scoop in box. Let guests help themselves or offer while you sample.
Witches Fingers ( Long chicken strips )
Worm Casserole
6 oz egg noodles and 8 oz spaghetti, cooked. Mix with 1 Tablespoon butter and 1 1/2 cups grated cheddar cheese. Bake until melted. Sprinkle with bread crumbs (dirt) and bake until toasted.
Ghosts
Dip nutter butter cookies in melted while chocolate. Use two mini chocolate chips for eyes-- great ghost-- Stacey
Spiders
Use Oreo cookies lift top put three strands of licorice across cookie and put top back on. Use two dots of icing to anchor red hots for eyes.-- Stacey
Punch
Make a punch from Orange Kool-Aid and float plastic spiders in it. (not for very young children)

Goodies

Need 1 large pumpkin. Cut open lid for pumpkin and loosen up the insides. Remove some of the insides. Place coins, or small plastic toys, inside pumpkin guts. Have kids place hand inside to find their prize. OR instead of pumpkin guts, clean out pumpkin completely and add spaghetti.~ angel

Mystery Boxes

Need boxes with lids with a different "spooky" item in each one. Decorate the boxes with special effects, spider webs etc. Inside put...
Bones (fresh carrots or use well cleaned chicken bones)
Brains (tofu- round off the edges)
Eyeballs (Peeled grapes or oiled olives)
Fingers (hot dogs or cheese sticks)
Hair (cut from an old doll, an old wig or saved silk from corn on the cob)
Hand (Fill a latex surgical glove ...

---

| | |
| --- | --- |
| Order 750 checklists in MS Word and PDF printable format at $49.99 USD only. | BUY NOW! |

CentriQS Tasks Management Solution

Looking for multi-user task management software? Try CentriQS complete task management solution for planning, tracking and reporting tasks, projects, and schedules. Increase productivity of your small business or office by better organizing your employees' tasks and time.

FREE Download CentriQS
CentriQS -15% OFF
All-in-one business management software
for small and midsize enterprises

---

VIP Task Manager
Multi-user project management software
to plan, schedule and track project tasks.

---

VIP Checklists
More than 750 ready-to-use to-do lists
to plan your personal and business life

---

VIP Team To Do List
Professional task management software
to make and send team todo lists by email

---

VIP Organizer
Personal time management software
to organize time at home and at work

---

VIP Simple To Do List
Simple and effective to-do list software
to plan daily chores, trips, wedding, etc.