Task Management Software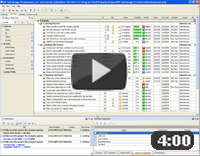 Authorization

TESTIMONIALS
"...This is an excellent program. I'm so glad that I stumbled on to this when researching for task management programs. Very low learning curv, quite flexible, and the price is right. Tried at least 20 other programs, either too complicated, too expensive, or poor documentation..."
Chad Lindsey -
Honolulu, HI
MORE FEEDBACKS

Hiking Checklist

| | |
| --- | --- |
| | This Hiking Checklist explains how you and your group can get prepared for a hiking tour. It includes a range of tasks to evaluate your physical activities, technical knowledge, mental readiness, and other things that are essential for the tour planning. |

---

| | |
| --- | --- |
| Order 750 checklists in MS Word and PDF printable format at $49.99 USD only. | BUY NOW! |

Physical Abilities.

Know your physical abilities before planning for a hiking tour.
In case you have some physical limitations or sickness, be sure your doctor allows you to take the tour.
Take the worst case scenarios into account and develop a rescue plan in case one of those scenarios occurs.
Consider weather conditions, terrain conditions, and altitudes and how they can influence your physical abilities.
Take your physical endurance or strength into account. Are you really ready to take the whole tour?
Hiking is a specific exercise, so dedicate some time (at least 2-3 week) to prepare your body for the exercise.
Take some pre-hiking training before you go.
Be ready to bring a heavy backpack all the time during the tour.
Engage your group to do the listed tasks.
Never hike alone! There should be at least one person travelling with you.

Technical Knowledge.

Know your technical skills, experience and health limitations in practicing various outdoor activities during your hiking tour.
Never plan for a tour that requires climbing rock faces, outdoor camping, food gathering, compass navigation, or other outdoor activities if you do not know anything about such activities.
Consider having an experienced instructor who could provide you with technical knowledge about safe hiking.
Ask your instructor to explain how to conduct yourself in typical emergency situations.
Make records on the explanations and be ready to follow them during your hiking tour when needed.
Use Internet to read about the fundamentals of safe hiking.
Engage your group to do the listed tasks.

Mental Readiness.

Know your own mental strength and psychological stability. Are you able to resist stressful situations?
Ask your instructor to explain how to react to possible accidents or unforeseen situations.
Be ready to deal with such situations during the tour (e.g. when you get lost or twist your ankle).
Mentally prepare yourself for possible incidents.
Work out in your mind how you would do within an emergency situation.
Don't plan for taking your hiking tour if you're not sure you're able to cope with stressful situations because otherwise you're likely to get under the negative impact of these situations; then the whole tour turns into a disaster.
Engage your group to do the listed tasks.

Hiking Essentials.

Clothes.

Smartwool socks packed in a cellophane bag (to ensure your socks remain dry).
Long underwear for sleeping.
Regular underwear for daily hiking.
Lightweight and UV-protected shirts.
Durable, lightweight and comfortable footwear (e.g. sandals, boots).
Special hiking pants convertible into convenient shorts.
Gloves to protect your hands from scratches and abrasion.
Warm hat as well as brimmed hat for sun protection.

Overnight Backpack.

Waterproof tent.
Sleeping bag with a pad.
Adequate food supply.
Portable water filter.
Camping utensils (cup, bowl, eating utensils, small stove, fuel for cooking needs, cooking pots).
Trash bag and zip locked bags.
Raingear
Toilet paper roll and small shovel to dig excrement holes.
A 50-feet nylon cord to hang backpacking tools and equipment.

First Aid Kit.

Bandages
Several gauze pads
Antibiotic ointment
Vinyl gloves
Iodine
Medications, including allergies, aspirin, laxative, etc.
Scissors and tweezers
Bug repellent
Sunscreen
Adhesive tape

Survival Kit (e.g. in case you got lost).

Waterproof matches or cigarette lighters packed in a waterproof wrapper.
Compass with signal mirror.
2 emergency rations.
Some iodine tablets for water purification.
Whistle.
Clasp knife.
Reflective blanket.
Waterproof map.
Pocket flashlight and headlamp.
Spare batteries.

Hiking Route.

Select a route for your hiking tour in advance.
Use your map to find and examine the route.
Decide on places, number and duration of stops and breaks.
Choose places for camping.
Mark your map with all planned stops and camping places of the route.
Provide every member of your group with a copy of this map.
Give one more copy to someone (your family member, friend) who doesn't go with you but who knows where you go. Do this task for safety purposes.

Hiking with Kids.

Be sure your kids are physically and psychologically ready for your hiking tour.
Be sure they have proper footwear and clothes.
Kids usually like to share responsibilities in hiking, so give your children their own backpacks and their food and water.
Plan for frequent stops and breaks because




---

| | |
| --- | --- |
| Order 750 checklists in MS Word and PDF printable format at $49.99 USD only. | BUY NOW! |

CentriQS Tasks Management Solution

Looking for multi-user task management software? Try CentriQS complete task management solution for planning, tracking and reporting tasks, projects, and schedules. Increase productivity of your small business or office by better organizing your employees' tasks and time.

FREE Download CentriQS
CentriQS -15% OFF
All-in-one business management software
for small and midsize enterprises

---

VIP Task Manager
Multi-user project management software
to plan, schedule and track project tasks.

---

VIP Checklists
More than 750 ready-to-use to-do lists
to plan your personal and business life

---

VIP Team To Do List
Professional task management software
to make and send team todo lists by email

---

VIP Organizer
Personal time management software
to organize time at home and at work

---

VIP Simple To Do List
Simple and effective to-do list software
to plan daily chores, trips, wedding, etc.