Task Management Software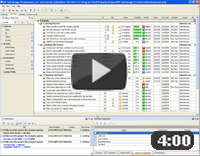 Authorization

TESTIMONIALS
"...This is an excellent program. I'm so glad that I stumbled on to this when researching for task management programs. Very low learning curv, quite flexible, and the price is right. Tried at least 20 other programs, either too complicated, too expensive, or poor documentation..."
Chad Lindsey -
Honolulu, HI
MORE FEEDBACKS

House Rental Checklist

| | |
| --- | --- |
| | This House Rental Checklist will be helpful for landlords who want to rent out their houses, as well as for tenants who need to rent some property for a certain period of time. The checklist gives suggestions and tips on estimating ownership cost and rental price, deciding on rental requirements, etc. |

---

| | |
| --- | --- |
| Order 750 checklists in MS Word and PDF printable format at $49.99 USD only. | BUY NOW! |

Rental Checklist for Landlords.

Rights and Responsibilities. As a landlord you must take a range of responsibilities and be responsive to your tenants. Here're several most important responsibilities and rights for you as a lessor:

Provide a safe and smoothly functioning house for your tenants.
Quickly react to any complaints and reports of tenants. For example, in case there are some troubles with plumbing in your house you should quickly respond to this malfunction.
Pay for advertizing of your rental.
Meet with potential tenants, discuss details of the rental and make a deal.
Evict tenants in case they break some rules of your lease contract.
Set rental price and initial lease period (to be discussed with your tenants).

Estimate Ownership Cost. An amount of financial resources you spend on house maintenance, mortgage payments, utilities, repairs and any professional services will form the cost of ownership. You need to create a cost estimate and put there all the expenses that are required to keep your house functioning and safe. Also you need to consider money you spend on furnishing the house and purchasing and repairing electronics.
Estimate Rental Price. The price for your rental should be competitive and reflect prevailing rates so that potential tenants will be interested in your offer. First of all, you need to add ownership cost to your price. Then you can examine the rental market in your location, read online and newspaper ads, and call property agents in order to find out average quotes for property units similar to your house. Your research will help you make necessary estimations and get the final rental price for your house.
Estimate Your Earnings. If you decide to rent out your house you expect for getting some earnings from this initiative. Your future tenants will pay you for this rental service. But what profit will you make? Will this profit cover your investments so your rental business will run a surplus? For answering these questions you need to estimate an anticipated profit. To put it simply, if the actual earnings fit into your anticipations you can continue doing your business.
Choose Tenants. For choosing tenants it's strongly recommended to hire a housing attorney who will help you diligently check every candidate. This professional will advise you on how to create a rental application form for candidates and what steps can be taken to do tenant screening. Also you can call to previous landlords of an applicant and request for recommendations. In Internet you can find free examples of rental application forms and also surf through websites offering a tenant screening service (for example, realtor.com, mrlandlord.com, rhol.com). Here're basic tips on choosing tenants:

Make your own criteria for accepting or rejecting applicants. Stick to these criteria without exceptions.
Decide on whether to choose tenants that have a history of debt.
Plan and do your rental business according to lessor-tenant laws of your country/state/province (for example, US-based landlords can use rentlaw.com to get ideas on landlord-tenant laws).
Treat tenants equally.
Write down your rental policy (including prices) and make it available to potential tenants.

Rental Checklist for Tenants.

Rights and Responsibilities. When you decide on renting some property you must remember that in such a case you take some responsibilities and have some rights. Here're examples of common responsibilities and rights for you as a tenant:

Pay your landlord for the rental service.
Move in the rented property as soon as the lease contract is made.
Live in the property during your rental period.
Move out the property when the period is over.
Report the landlord on any troubles.

Decide on Requirements. You're going to rent a house or flat. What requirements do you have? Do you want to have a garden in your house? Would you like your flat to face a noisy street? Below we give some suggestions that you can use to decide on your requirements:

Location.
Proximity to transportation routes.
Type of property (flat, house, room).
Storey.
Length of tenancy period.
Sole or joint tenancy.
Furnished or unfurnished.
Number of rooms, including kitchen, bedroom, bathroom etc.
Electronics and appliances available/unavailable.
Parking lot.
Garden.

Define Your Budget. You need to set a manageable budget and stick to it without exceptions. Your budget should cover a regular (daily, weekly, monthly) rental price. If you're going to hire a professional property agent, you must be ready to pay for the service. In addition to all the said, please consider other related expenses:

Insurance of your own house contents and personal belongings available inside the leased property.
Paying for utility bills (water, electric power).
Service charges (optional, to be discussed with your landlord).
Paying for deposit (the value of your month rental payment).

Search for Property. The best way to search for rental property is using Internet. Online search lets you save your time, view a lot ...




---

| | |
| --- | --- |
| Order 750 checklists in MS Word and PDF printable format at $49.99 USD only. | BUY NOW! |

CentriQS Tasks Management Solution

Looking for multi-user task management software? Try CentriQS complete task management solution for planning, tracking and reporting tasks, projects, and schedules. Increase productivity of your small business or office by better organizing your employees' tasks and time.

FREE Download CentriQS
CentriQS -15% OFF
All-in-one business management software
for small and midsize enterprises

---

VIP Task Manager
Multi-user project management software
to plan, schedule and track project tasks.

---

VIP Checklists
More than 750 ready-to-use to-do lists
to plan your personal and business life

---

VIP Team To Do List
Professional task management software
to make and send team todo lists by email

---

VIP Organizer
Personal time management software
to organize time at home and at work

---

VIP Simple To Do List
Simple and effective to-do list software
to plan daily chores, trips, wedding, etc.