Task Management Software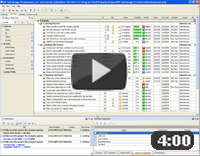 Authorization

TESTIMONIALS
"...This is an excellent program. I'm so glad that I stumbled on to this when researching for task management programs. Very low learning curv, quite flexible, and the price is right. Tried at least 20 other programs, either too complicated, too expensive, or poor documentation..."
Chad Lindsey -
Honolulu, HI
MORE FEEDBACKS

Thanksgiving Day Checklist - To Do List for Thanksgiving Day

Thanksgiving Day template is a 'to do list' for you not to find yourself dashing around when preparing a spectacular feast. Use this Thanksgiving Day checklist filled with tips which help you host a smooth and stress-free get-together.

---

| | |
| --- | --- |
| Order 750 checklists in MS Word and PDF printable format at $49.99 USD only. | BUY NOW! |

FOUR WEEKS BEFORE:

Make your guest list.
Make your menu.
If you're planning an extended family dinner, coordinate with family members so guests aren't in the uncomfortable position of having to choose between meals.
Order your turkey especially.
If you want a fresh one. Plan on 1 1/4 pounds per person.
Measure your oven to make sure your turkey will fit.
Invite your guests.
Before you get on the phone, have a list of guests and a list of dishes. Then, if someone offers to bring a dish, accept the offer. And if they don't offer, ask them.

THREE WEEKS BEFORE:

Take inventory of your dinnerware.
If you don't have enough matching china and cutlery, use complementary colors or patterns, or go eclectic by mixing and matching.
Check your equipment:

Table (one large enough for all your guests)
Chairs for all of your guests
Dishware:

Dinner plates
Dessert plates
Coffee cups and saucers

Silverware:

Polished forks, knives and spoons

Glassware:

Water glasses
Clean wine glasses

Linens:
Tablecloth (large enough to fit your table)
Cooking and serving items:

Roasting pan: Is it the right size for your turkey? Will it fit into your oven? (Don't laugh: It's easier to buy the right pan today than it will be on Thanksgiving morning.)
Big-enough bowls, pots and serving platters
Trivets
Bread basket
Sauceboat
Gravy pitcher
ell-sharpened knives
Coffeepot--Can yours make both regular and decaf for a crowd? Maybe you should get a thermos.
ugar bowl
Cream pitcher

TWO WEEKS BEFORE:

Make a seating chart.
Work on your shopping lists.
Include ingredients for all of your dishes, plus candles, table linens, flowers, etc.Don't forget tonic, seltzer and apple cider for the kids. Prepare a grocery list by dividing it into two parts ? (1) items that can be purchased immediately, and (2) items that need to be bought the day before Thanksgiving.
Begin cooking.
Relish will keep in the fridge for a week; gravy freezes well.
Select a wine.
Caterers recommend providing a half bottle for each guest - not counting children, of course.
Consider hosting a potluck.
As the host, you'll take care of the turkey. Two weeks before the meal, ask guests to bring specific dishes, like sweet potatoes, extra stuffing and gravy, cranberry sauce, vegetables, dessert, wine and so on. Request that people bring serving dishes for their contribution and be responsible for its presentation. The best potluck foods are those that can be served at room temperature.

ONE WEEK BEFORE:

Tidy up the house.
Decorate your home for the holiday.
Put clean towels in the bathroom.
Make a final shopping list.
Remember ice, cream for the coffee and nuts for nibbling in the living room.
Save food containers and paper bags.
For packing up leftovers and handing them out to guests on their way out. Bags and newspapers also come in handy for making paper turkeys.
Collect chairs, benches and large pillows.
To ensure ample seating for everyone in the dining- and living-room areas. Folding chairs are fine if you outfit them with a seat cushion or slipcover. Small tables are good for guests to place glasses and dishes on. Cover folding tables with a tablecloth.
Confirm the number of guests who will be attending the holiday dinner.
Take a look at the online Thawing Video.
So you are prepared! Begin thawing frozen turkey by placing it in a shallow tray in the refrigerator. Allow one day of thawing for every 4 pounds of turkey.

MONDAY:

Defrost your turkey (if it's frozen).
Remember that you have to allow 24 hours for every 5 pounds if you're going to defrost a turkey in the refrigerator. That means a 15-pound turkey will take three full days, so get started on Monday. If you choose to prepare a fresh turkey, purchase it one to three days before Thanksgiving and store it in the fridge until time to cook.
SUGGESTION:
If you miss that deadline, you can defrost the bird faster in a sinkful of cold water, allowing about half an hour for each pound of turkey and changing the water occasionally. (It will still take 7 1/2 hours for that 15-pounder, so do it after work on Wednesday, then refrigerate it.)

TUESDAY:

Do your final food shopping.
Make a cooking schedule for Thanksgiving Day.
If guests are invited for 5 P.M. , count backward from a 6 P.M. dinner, writing down the time everything goes into the oven or the microwave. Don't forget the dishes that will have to be reheated.
Prepare and freeze appropriate side dishes and desserts.
Don't forget to thaw out the breads and biscuits you made earlier this month.

WEDNESDAY:

Set the table.
Clear out the coat closet for guest coats.
Clean the guest bathroom.
If possible, make it off-limits to the family.
Take the gravy out of the freezer and put it in the refrigerator so it can defrost.
Decide on a table centerpiece.
Flowers or collections of candles work well. Line votive candles down the center so the entire table is aglow. Since it's fall, you could also try an arrangement of seasonal fruits and vegetables. Place pumpkins, gourds and wheat around the house for decorative touches.
Prepare yourself, too.
Today's a good day to decide what to wear and to mentally take yourself through Thanksgiving Day. Don't worry about potential mishaps. Remember that the important thing is that family and friends are together.
Prepare and refrigerate moist ingredients for the stuffing.
Store dry ingredients in a separate container. Thaw pie dough and bake the pie. Set your beautiful table with elegant folded napkins.

THANKSGIVING DAY:

CentriQS Tasks Management Solution

Looking for multi-user task management software? Try CentriQS complete task management solution for planning, tracking and reporting tasks, projects, and schedules. Increase productivity of your small business or office by better organizing your employees' tasks and time.

FREE Download CentriQS
CentriQS -15% OFF
All-in-one business management software
for small and midsize enterprises

---

VIP Task Manager
Multi-user project management software
to plan, schedule and track project tasks.

---

VIP Checklists
More than 750 ready-to-use to-do lists
to plan your personal and business life

---

VIP Team To Do List
Professional task management software
to make and send team todo lists by email

---

VIP Organizer
Personal time management software
to organize time at home and at work

---

VIP Simple To Do List
Simple and effective to-do list software
to plan daily chores, trips, wedding, etc.