Task Management Software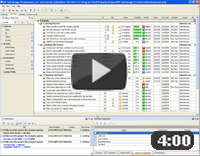 Authorization

TESTIMONIALS
"...This is an excellent program. I'm so glad that I stumbled on to this when researching for task management programs. Very low learning curv, quite flexible, and the price is right. Tried at least 20 other programs, either too complicated, too expensive, or poor documentation..."
Chad Lindsey -
Honolulu, HI
MORE FEEDBACKS

Winter Home Checklist

| | |
| --- | --- |
| | This Winter Home checklist will be helpful to everyone as a guide through preparing one's house for wintertime as an important part of home maintenance. These tips will give you some suggestions on how to make your home winter-ready before the weather gets too cold. The main sections of this checklist are dedicated to areas of heating tips (energy saving and rationalization) and repair tips and maintenance (safety, comfort, etc). |

---

| | |
| --- | --- |
| Order 750 checklists in MS Word and PDF printable format at $49.99 USD only. | BUY NOW! |

Energy Saving Tips:

Make sure that your storm windows are in place to keep the warm air inside your home and the cold one outside;
Make sure all your doors and windows are tight enough, check them for air leaks. Fill any gaps with weather stripping and caulking, and repair any disordered locks which fail to keep doors or windows tight;
If you have any unused rooms in your house, close them off and lower the temperature there a little bit;
Turn down your water heater temperature, minimize time you stay in the shower, install low flow shower heads to conserve heated water, and don't forget turning off bath fans once they are not necessary (as they suck heat out of your home);
Make sure that your heating system is cleaned and inspected at least once a year if you have oil heat, and at least every two years if you are using gas (during the heating season take care changing your filters once a month);
Stockpile any fuel that you may need for heating in Winter beforehand (in Summer or Spring) as far as prices may appear much higher during a cold season. Always have enough fuel at storage, at least for several days, to make sure you have a reserve for a case of any emergency;
Upgrade your heating system to be equipped with a programmable thermostat, and set the temperature down during the time when you are not at home (however strongly avoid freezing out your house);
Don't forget to close the fireplace damper to prevent getting warmth lost going up and out the chimney (but never close your damper with hot ashes in the fireplace). Have the chimney inspected annually and cleaned;
Add additional insulation to the home to minimize heat loss (winterize your attic, basement and outside walls);
Place an insulation jacket around your hot water heater if it is installed in an unheated or poorly heated space;

Safety Tips:

Make sure that the any outdoor and indoor pipes are well-drained and insulated to prevent their freezing and breaks;
Locate, mark and test your main water shut-off valve in advance;
Make sure any outdoor faucets are tightly blocked and wrapped;
Clean leaves and debris out of your gutters;
Find trusted plumber and electrician, and keep their names and phone numbers handy;
Store any firewood at least 30 feet from the house, as storing it too close can be a fire hazard and can also attract pests;
Create or review a family emergency plan in case of fire;
Keep your carbon monoxide detectors serviced and tested;
Never use fuel burning appliances without proper room venting. Burning fuel (coal or kerosene or propane, for example) can produce deadly fumes;
Never use any inappropriate type of fuel with any heating device which was not designed for this type of fuel. Strictly follow all the instructions provided by heater's producers;
Keep any flammable liquids (such as kerosene) stored in approved metal containers, in well ventilated storage areas, outside of your house;
Keep a glass or metal screen in front of the fireplace opening, to prevent embers or sparks from jumping out, and unwanted materials from going in;
Charge fire extinguishers and teach everyone in your family to use them properly. Replace all smoke detector batteries and test each device;
Stock up on canned food, bottled water, and candles for winter emergencies;

Garden Tips:

Have enough of salt and sand ready (as well as a shovel) if you tend to use them on sidewalks and driveways when it snows;
Deactivate your garden sprinklers and store garden hoses;
Clean, service and store your lawn mower as appropriate;
Prune dead or awkward branches that may break when weighted down with snow or ice (especially ones which are close to electric or utility wires);
Rake and compost (or dispose) leaves, twigs, and other debris that rots over time;
Mulch gardens and flowerbeds if necessary to minimize weeds;
Cover or transplant delicate trees and plants;
Store inside your outdoor furniture and all garden accessories;
Repair damaged sidewalks, steps, and driveways to prevent their further destruction;
Inspect and service snow blower to get it prepared for use (if you have one);
Inspect and repair garden's landscaping or fencing as appropriate;

Decorating Tips:

When the cold weather arrives, have a collection of cozy, fluffy cushions, pillows, and toys to place on your furniture for snuggling;
Get out your warm throws or fleece blankets to place them on your sofas and armchairs;
Try scented candles or use a fragrant oil in an oil warmer to fill your home's air with refreshing aromas;
Set out some flowering plants or cut flowers to your kitchen or dining room table;
Use more of refreshing, variegated, or floral prints to enliven your interior and boost up your mood;
Clean windows' exteriors to ensure adequate level of natural light,...




---

| | |
| --- | --- |
| Order 750 checklists in MS Word and PDF printable format at $49.99 USD only. | BUY NOW! |

CentriQS Tasks Management Solution

Looking for multi-user task management software? Try CentriQS complete task management solution for planning, tracking and reporting tasks, projects, and schedules. Increase productivity of your small business or office by better organizing your employees' tasks and time.

FREE Download CentriQS
CentriQS -15% OFF
All-in-one business management software
for small and midsize enterprises

---

VIP Task Manager
Multi-user project management software
to plan, schedule and track project tasks.

---

VIP Checklists
More than 750 ready-to-use to-do lists
to plan your personal and business life

---

VIP Team To Do List
Professional task management software
to make and send team todo lists by email

---

VIP Organizer
Personal time management software
to organize time at home and at work

---

VIP Simple To Do List
Simple and effective to-do list software
to plan daily chores, trips, wedding, etc.